Ladakh standoff: Forces ready for military actions if talks fail, says CDS Rawat
Rawat said govt was reviewing all options with objective that PLA restores status quo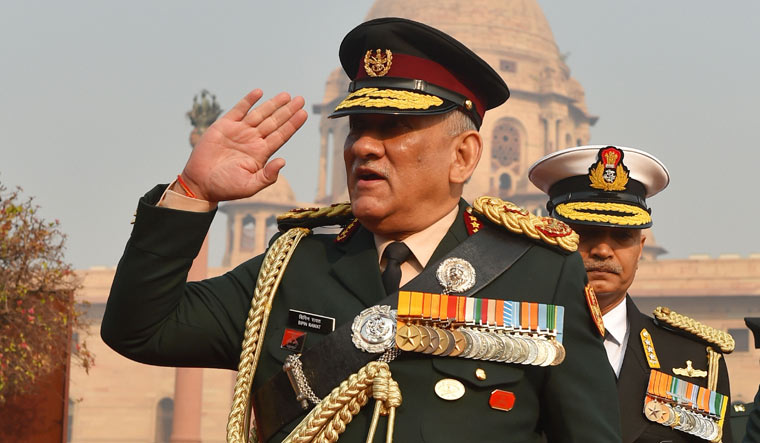 (File) CDS Bipin Rawat | PTI


Despite multiple rounds of talks, the standoff between India and China at the Line of Actual Control in Ladakh has not ended.

On Monday, Chief of Defence Staff General Bipin Rawat emphasised that the 'military option' to counter Chinese transgressions across the Line of Actual Control could be exercised if talks at diplomatic and army levels fail.

Rawat told Hindustan Times, "Transgressions along the LAC occur due to differing perceptions about its alignment. Defence services are tasked to monitor and carry out surveillance and prevent such transgressions turning into intrusions. Whole-of-government approach is adopted to peacefully resolve any such activity and prevent intrusions. Defence services always remain prepared for military actions should all efforts to restore status quo along the LAC do not succeed."

Rawat also told Hindustan Times that Defence Minister Rajnath Singh, National Security Adviser Ajit Doval and other officials are "reviewing all options with the objective that PLA restores status quo ante in Ladakh".

Rawat emphasized infrastructure development programmes in border regions were continuing. The recent standoff in Ladakh has been attributed to China's worries over India accelerating road construction work in the region.

"They [infrastructure projects] have been given the desired impetus over the past three-to-four years. Our infrastructure development like the construction of Darbuk-Shyok-Daulet Beg Oldi (DSDBO) road or developments in other areas of our northern borders have been undertaken to provide connectivity to our people who are otherwise seeking migration. It also simultaneously assists the security forces who are responsible for monitoring and maintaining surveillance along our border areas..." the chief of defence staff told Hindustan Times.

Defence Minister Rajnath Singh on Saturday reviewed the overall security scenario in eastern Ladakh, two days after India and China held a fresh round of diplomatic talks to resolve the border row in the high-altitude region, people familiar with the developments said.

Separately, the Indian Army said a meeting of the Army commanders took place from August 20-21 to review the security situation and operational preparedness on both the northern and western fronts.

The Army has emphasized it is ready for the "long haul" on the Ladakh standoff. The Army is also in the process of procuring a number of weapons, ammunition and winter gear for the frontline troops.